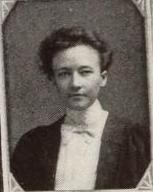 My Labrador Rug
(c. 1935)
Mary B. Huber (1881-1975) was a Canadian born writer and poet. She is noted for stories and articles for and about youth, as a women's journalism advocate and as a descendant of the Cornells, a pioneering family in Ontario.
Life
Mary B. Huber was born May Bertha Cornell on 12 Feb to Emily Humphrey (23 Oct 1846 - 17 Feb 1902) and Russell Cornell (16 Apr 1845 - 27 Feb 1923) of Lot 18, Concession C, Scarboro, Ontario. [1]. The home and remaining 3 acres of the original 19 acre family farm (that was bound by Eglinton Avenue, Kingston Road and Markham Road) on which she was born is now called alternatively the Russell Cornell Farm and the Campbell Property, and since amalgamation, is now within the bounds of the City of Toronto. The city has plans to restore the buildings to create a horticultural learning center to educate school children and as a home to the Scarborough horticultural society.[2]
"Bertie" began her elementary schooling at School Section #9 in Scarboro Village and later attended Jamieson Avenue Collegiate in downtown Toronto (now Parkdale Collegiate Institute). She matriculated and went on to study at University College at the University of Toronto, graduating in 1905 where she achieved excellent standing in her Arts Course, notably Modern Languages, English and History.[3]
On September 1st 1909 she married Wimund Huber of Bracebridge, Ontario (S.P.S., University of Toronto, 1906[4]) [5]. They had two children together, Helen Emily on June 19, 1910 at Giroux Lake, Cobalt, Ontario [6] and Marion Elizabeth on 13 December 1912 at their home on 22 Yarmouth Avenue, Toronto, Ontario[7]. Marion (Commerce and Finance, University of Toronto, 1934)[8] wed Dr. Ronald Kay (Medicine, University of Toronto, 1935)[9] in the family home on 30 June 1936 [10] and Helen (University College, University of Toronto, 1931)[11]married Albert Campbell (B.S.C., University of Toronto, 1933)[12] (who was to become the 1st mayor of Scarborough) on 9 August 1938 in the same home.[13]Mary's husband, Wimund, passed away suddenly at home on the Tuesday evening of 14 December 1948.[14]. She continued to live at 19 Oakmount Road until her home was expropriated by the Toronto Transit Commission in 1966 to accommodate the building of the Bloor-Danforth subway line expansion from Keele station to the west. She passed away on 24 August 1975[15], in her 95th year. She is interred[16] with her husband in the family plot near her parents, her daughters and their husbands, her sister, and some of her brothers, at St. Margaret's in the Pines (Anglican) Cemetery, Scarborough, Ontario.
Writing
Mary was an active member of the Toronto Branch of the Canadian Women's Press Club from approximately 1931 to 1936. Her literary evenings are noted in her daughter Marion's diaries from the early 1930's [17] and she appears in multiple social news listings for this period in the Globe and the Toronto Daily Star as Mrs. W. Huber.
Mary B. Huber had numerous stories and poems printed in a variety of publications, many of which appeared in local newspapers and magazines, including the Family Herald, Canadian Countryman, Junior World, The Canadian Boy, The Canadian Poetry Magazine, and Lutheran Young Folks. Subject matter was centered around the home, children, travel in Canada and pioneering missionaries such as Reverend John McDougall, and Dr. Wilfred Grenfell.[18]Her most enduring poem, My Labrador Rug, appeared in Chatelaine,[19] The Globe and Mail,[20] the Daily Sentinel,[21], Among the Deep Sea Fishers,[22], Portrait,[23] Silk Stocking Mats: Hooked Mats of the Grenfell Mission,[24] and as lyrics in a choral music setting. [25]
MY LABRADOR RUG
Old silk stockings, worn and grey,
Packed in a box and sent away,
To a fisherman's home by a wintry sea,
You have all come back again to me,
In the form of a ship and a flying gull,
White for the sails and brown for the hull,
Blue for the sky and sea.
Old silk stockings, tired of the town,
Did you smell the tang of the seaweed brown,
Have you heard the lonely seabirds cry,
While the good wife worked with hook and dye?
Black for the rocks and the fisherboy's hair,
White for the ice and the polar bear,
Blue for the sea and sky.
A bibliography of published stories and articles appears in Portrait, a listing of works compiled by her daughter, Marion, in 1982.[18]
References
Kay, Marion (1982). Portrait. Toronto: Pathway Publications. pp. 76.ISBN 0919357261. AMICUS 3719652
Notes
^ Archives of Ontario, MS 929, Reel 52
^ TORONTONENSIS, University of Toronto, 1905, p56
^ TORONTONENSIS, University of Toronto, 1906, p213
^ Archives of Ontario, MS 932, Reel 138
^ Archives of Ontario, MS 929, Reel 211
^ Archives of Ontario, MS 929, Reel 237
^ TORONTONENSIS, University of Toronto, 1934, p87
^ TORONTONENSIS, University of Toronto, 1935, p107
^ The Toronto Daily Star, 30 June 1936, p13
^ TORONTONENSIS, University of Toronto, 1931, p28
^ Fond for Campbell, Albert McTaggart, A73-0026/29 (28), Thomas Fisher Rare Book Library (Archives), Toronto
^ The Toronto Daily Star, 9 August 1938, p20
^ The Toronto Daily Star, 15 December 1948, p38
^ The Globe and Mail, August 27, 1975, p44
^ GPS: +43° 46' 5.85", -79° 11' 36.51 (Headstone Marker)
^ Diaries of Marion Huber, A73-0026/160 (21), Thomas Fisher Rare Book Library (Archives), Toronto
^ Chatelaine, June 1938, p19
^ The Globe and Mail, 13 July 1938, p12
^ The Daily Sentinel, Rome, NY, 18 January 1939, p4
^ Among the Deep Sea Fishers, January 1950, v47, p118
^ Portrait, p45
^ Laverty, Paula (2005). Silk Stocking Mats: Hooked Mats of the Grenfell Mission. Montreal: McGill-Queen's University Press. pp. 197. ISBN 0773525068, p1
^ My Labrador Rug, Huber/Rose, RTCA-015, Rhythmic Trident Music Publishing, Vancouver, BC, 2007